If at first you don't succeed, try again
Trying but not 'trying'
Jackie and her husband married in 2018, and even before saying, "I do," they knew they wanted to grow their family. A year before tying the knot, they were in the "trying, but not 'trying'" camp and perfectly content waiting for nature to take its course while planning their wedding.
When month after month went by with no pregnancy, their nonchalant, "if it happens, it happens" attitude turned to concern. Jackie felt defeated by the assumption that she must be the reason they struggled to conceive. Instead of jumping to conclusions, the couple decided it was time to figure out why they weren't getting pregnant, and at the advice of Jackie's mother-in-law, they scheduled a doctor consultation at FCI.
Getting started with FCI
To their surprise, the diagnosis was oligozoospermia, or low sperm count. While it was difficult to hear an official diagnosis, having the answer to why they weren't conceiving and putting a treatment plan in place helped Jackie and her husband regain confidence that she would get pregnant.
They start treatment with intrauterine insemination (IUI) and put Jackie on medication to improve her chances of conceiving. Unfortunately, their first pregnancy test turned up negative, which Jackie described as, "a bit of a culture shock." She explained, "The first IUI scared us because we were naïve and expected it to work."
Jackie was starting to regain her optimism, but on the day of her second IUI, she received more unsettling information. A nurse told her that the count of the sperm sample they were using was low compared to those previously produced and asked her if she wanted to move forward with the procedure that day.
Having already gone through one failed IUI, the news left Jackie feeling distraught, but she decided to continue anyway. She wasn't enthusiastic when pregnancy testing day arrived. That is until she received her results. The test was positive!
Baby on board
Jackie and her husband were ecstatic. She felt enormous gratitude towards her care team, especially Dr. Elie Hobeika. Throughout her treatment, Jackie didn't feel like she was just another number because he was just as invested in their success. Jackie gushed, "Even my OB told me about Dr. Hobeika's excitement when he called him to tell him I was pregnant. I'll never forget that. I thought it was so cool. My husband and I were randomly assigned to be Dr. Hobeika's patients. I could not be more thankful that he was the doctor I was given."
Jacqueline gave birth to a healthy baby boy whom they named Declan. She describes him as, "an adorable and loving two-year-old who gets into everything."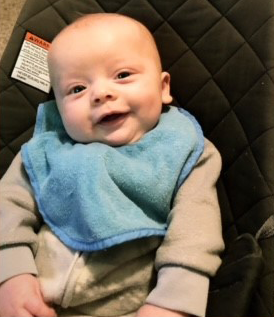 Trying for #2
The proud parents decided it was time to give Declan a sibling and they only had one person in mind to help them grow their family. "We knew that Dr. Hobeika could help us get pregnant again," Jackie said.
Conceiving their second child didn't come without its challenges, though. Jackie and her husband had four failed IUIs. They also got pregnant on their own in between treatments, but sadly she had a miscarriage and Dr. Hobeika was the one who delivered the news. "I have to commend him, good news or bad, he's always the one to make the phone call. He always wanted to talk to me personally. He was extremely timely and always put me first and that's really important to me," she shared.
Since they weren't having success on their own or with IUI, they decided to try in vitro fertilization (IVF) which was a very different experience. "IVF medication was overwhelming. The medication was a rollercoaster," Jackie said. Still, she trusted the process and Dr. Hobeika.
Her first IVF cycle was not successful, but Jackie learned the first time around that she had to be patient and remember, "it's nobody's fault if it doesn't work. You still have to go in there and they're doing everything they can." She also found comfort in being able to confide in Dr. Hobeika, who assured her that with a couple of changes to medications in time they would, "get it right."
Sure enough, Dr. Hobeika was right! Jackie "graduated" from FCI to her OB and is entering her second trimester with Baby #2. Though she is over the moon that she's pregnant again, she is also sad because she will no longer be a patient of Dr. Hobeika. She shared, "As happy as I am to have been successful and moving on to an OB, the departure from FCI and Dr. Hobeika especially was very hard for me. He is such an amazing person and doctor."
Her praise for Dr. Hobeika did not end there. She continued, "Dr. Hobeika has been more than a doctor to me in these last few years. He has addressed every concern I've ever had whether he was on or off schedule. Dr. Hobeika holds a VERY special spot in my heart, not only because of his success with my pregnancies, but because of the support and empathy he has for his patients. I've never felt so connected on a personal level with a doctor in my entire life. I've never felt so confident in anything in my life compared to how I felt about him treating me and giving me the best gifts of life. He has truly changed my life in so many ways. There will never be enough kind words I can say to thank him. I appreciate him so much and will always remember him and know that he made this life possible."
Of course, she recognizes that Dr. Hobeika is not the only person who made her two little miracles possible. "I would also like to thank my ultrasound tech Kathy. She has become so close to me throughout this process and has held my hand every step of the way since 2019. My phlebotomist Ashley was amazing as well. These three made this the most painless process with all the faith and reassurance. They were my biggest cheerleaders."
What Jackie learned along the way
Reflecting on her own journey, she's surprised she made it through successfully with two babies and all in one piece. "Never in a million years did I think we would be in this position and that I could handle it. It made my marriage 100 times stronger than I could have ever imagined. It taught me a lot of patience. It taught me to be more empathetic and less judgmental. I'm a more gentle person now."
For anyone facing their own difficult journey, she has a few words of wisdom from her own experience: "There will never be any words to take away what anyone is feeling when undergoing fertility. Just know you are not alone, and you already are an amazing Mom/Dad, you just do not have your miracle yet."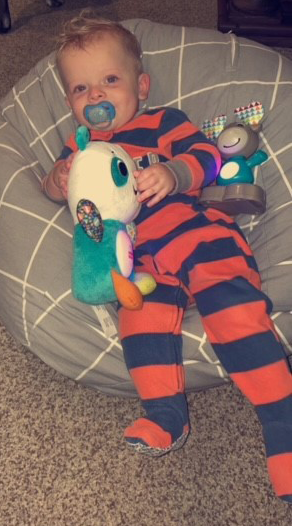 Need-to-know fertility resources and guidance
We understand you may have questions about infertility and how it's treated. Gain answers from the diagnosis and treatments shared in this story.
Assemble your fertility care team close to home. Explore our different locations and physicians who will provide guidance along your journey.