Egg Freezing
Egg freezing increases the chances of a successful pregnancy at a later age. When eggs are frozen, the quality and 'youth' of the eggs are preserved. Women get the benefit of an egg that was frozen during peak fertility.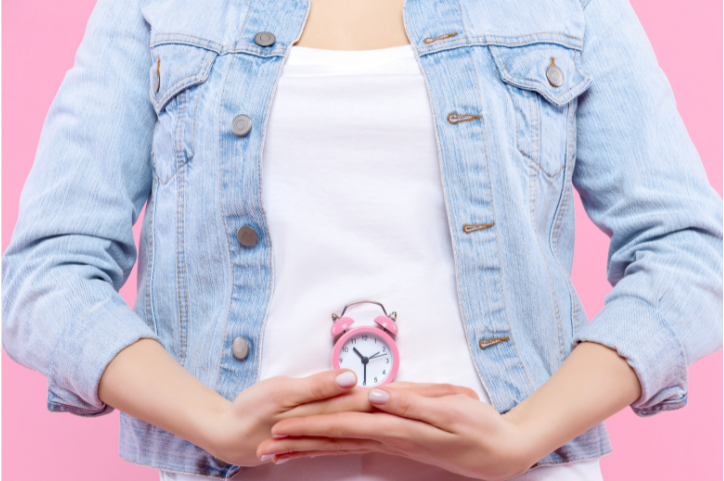 Extending the Biological Clock
Egg freezing is the process of taking eggs from the ovary and freezing them for later use when a woman is ready to start a family. At Fertility Centers of Illinois, we use the most cutting-edge form of egg freezing, called oocyte vitrification, or simply vitrification.
Vitrified (flash-frozen) eggs are stored in liquid nitrogen at our cryopreservation laboratory until the woman is ready to use them. Frozen eggs are kept in one of our 30+ cryo storage tanks, which currently store over 30,000 frozen embryos, eggs, and sperm samples.
Reasons to Freeze Your Eggs
Fast-paced lifestyles, career goals, or finding the right partner are common reasons to delay parenthood. However, when a woman decides to start a family, there is no guarantee that she will be able to conceive. Egg Freezing can help ease those stresses.
In today's society, women are choosing to have children at an older age. Sometimes this can result in difficulty getting pregnant. As ovarian reserve declines with a woman's age, the chance of fertility issues increases. Freezing at a younger age allows women to conceive later and also have the pregnancy health benefits of using a younger egg such as decreased miscarriage and genetic abnormalities.
Some women get pregnant naturally the first time, but choose to use their frozen eggs for second or third children, or if they are diagnosed with secondary infertility.
Egg Quantity Diminishes with Time
As women age, their fertility quotient decreases. Unlike men, who produce new sperm every day of their reproductive lives, women are born with all of the eggs they will ever have and incrementally lose eggs every month.
Egg quantity and quality are both negatively impacted as women age and as a result, a woman's fecundity rate (the chance of pregnancy in any single menstrual cycle) declines. The chance of miscarriage also increases.
Am I a Good Candidate?
The optimal age to freeze eggs is 32-36, but any woman with normal hormone levels aged 30-40 should consider egg freezing if they plan to delay pregnancy. The number of eggs a woman needs to freeze is dependent upon her age, but age is only a single factor. Not every 35- or 40-year-old are the same. Therefore, there is not necessarily an absolute upper age; although women less than and equal to 40 will have better success and studies have shown egg freezing is cost-effective until age 38.
Flexibility is also very important. You need to be available for daily appointments for approximately 2-3 weeks.
Step 1: Schedule an Appointment
The first step is a visit with one of our physicians to discuss next steps and get your questions answered.
Step 2: Fertility Testing
Fertility testing consists of blood tests and an ultrasound that will help determine your ovarian reserve and potential for preconception.
Step 3: Come Up with an Action Plan
Following testing, your physician will explain your test results and review your unique protocol.
You will take medications for 8-14 days that encourage the ovaries to develop multiple follicles, therefore, multiple eggs. Medications are self-administered through an injection.
Our staff will show you how to administer these injections; many patients say the shot feels only like a tiny 'pinch' and that they get the hang of it easily.
Step 4: Monitoring
During your medication period, monitoring with blood work and ultrasound is done to determine your response and adjust your medications.
Step 5: Egg Retrieval
The day of the egg retrieval, you will be under light sedation, often referred to as 'twilight' anesthesia, for the 15-30 minute procedure. After the procedure, you will need someone to drive you home.
Step 6: Cryo-storage
Eggs are flash-frozen and stored in our cryo tanks until you're ready to use them.
Pregnancy After Egg Freezing
You will meet with your physician to ensure you are healthy and ready to carry a pregnancy. Your male partner (or sperm source) will also need some labs tests. When you are ready to proceed, you will begin taking medicine to prepare your uterus for pregnancy.
At the appropriate time, the eggs will be thawed and injected with sperm through a process known as ICSI (Intracytoplasmic Sperm Injection). The resulting embryos are then transferred into your uterus when they are either 3 days or 5 days old. Any extra embryos can be frozen and stored.
You will continue to take hormones to support early pregnancy. Approximately 10-12 days after embryo transfer, you will know if you are pregnant. After 8 weeks of pregnancy, you will transfer your care to the obstetrician who will deliver your baby.