A rainbow worth waiting for
Originally from Ireland, Sarah was living in Boston when she started to explore the possibility of becoming a solo parent. She was in her late 30s and enjoying life with a loving family and group of friends, a busy social life and a thriving career. Considering what she wanted for her future, she began entertaining the idea of motherhood, though she wasn't sure if she wanted to wait for "the one" to start a family or become a parent on her own.
At the advice of her gynecologist, Sarah decided to figure out, "what she was working with," and scheduled fertility testing. She wasn't sure what to expect from the results because she had undergone aggressive treatment for breast cancer almost ten years prior. Chemotherapy and radiation can affect a woman's eggs, and she elected not to freeze any of hers before cancer treatment as she was eager to tackle that battle first.
Sarah received the great news that her results came back promising for her age, and what started as an information-seeking mission turned into much more. Seeing a reproductive endocrinologist (RE) made the idea of becoming a parent feel much more real and she recognized, "I really want to move forward with this. I'm ready." Having waited years to start down this path, she thought, "every year I'm not pregnant is a year I'm not spending with my child."
Beginning fertility treatment
Sarah and her doctor in Boston decided to start by attempting Intrauterine Insemination (IUI) with donor sperm. She underwent multiple intrauterine insemination (IUI) cycles, with the first successful one resulting in miscarriage at almost six weeks. Though grieving the loss, she continued onto the next cycle the following month, and once again got to hear the magic words, "you're pregnant."
She could feel it in her bones that this one was different and felt over the moon with joy. Prenatal testing confirmed she was expecting a little boy. As the holidays approached, she flew to Ireland and excitedly shared the news with friends and family there. On New Year's Day, after returning from Ireland, she made a big move from Boston to Chicago with her dog Henry in tow and her growing baby on board.
A few weeks later, Sarah went in for a routine OB appointment excited to check in on her little baby boy. "I'm sorry, there's no longer a heartbeat" were not at all words she expected to hear at almost 17 weeks pregnant. She was utterly overwhelmed by a grief that's near impossible to explain unless you've been through the same experience – there are simply no words to explain the heartbreak and devastation after the loss of a child.
A close friend flew out to be with her as she said goodbye to her beautiful son, whom she named Nicholas. Sarah took time off work to make space for her grief and surrounded herself with people who understood and respected that, including some time back in Ireland with her parents and closest girlfriends. They say that time heals all wounds, but no amount of time was going to bring Nicholas back.
Meeting Dr. Nani
Accepting that the grief would always remain, even though its shape may evolve, she began to explore options in Chicago to give Nicholas a sibling. That was when she decided to meet with Dr. Jane Nani at FCI. She was recommended to Sarah by the Boston doctor who had helped her conceive Nicholas because she believed that Dr. Nani would be a compassionate caregiver in light of Sarah's goals and heartbreaking experience with loss. 
Dr. Nani was very open to Sarah's preferences around treatment options, encouraging her to start with intrauterine insemination (IUI) again if that's where she felt most comfortable. Several attempts later, "not pregnant" was the only result Sarah was seeing. After talking again with Dr. Nani, she was ready to move to in vitro fertilization (IVF). 
Dr. Nani warned Sarah that there was a possibility that even IVF may not be successful due to the quality and quantity of her eggs as a result of her age and prior cancer treatments. The day-to-day of taking fertility medication (yes, lots and lots of needles!) and going to monitoring appointments in preparation for egg retrieval could be exhausting at times, especially juggling it all with a tremendously busy career involving a lot of travel. "Being open with others and having a sense of humor about it helped me cope," Sarah shared. "I took a whole lot of improv classes!"
Several attempts were made to retrieve Sarah's eggs for IVF, with no cycle ultimately resulting in a viable embryo for transfer. She wasn't sure what her next move would be until she spoke with friends in Ireland that suggested she use an egg donor. It was like a lightbulb went off in her head. She thought, "Your parent is who raises you, not whose genes you're carrying. I'm totally open to not having a genetic connection to my child." She did, however, want to carry the pregnancy, feeling very attached to the experience with Nicholas.
Sarah talked to Dr. Nani right before Christmas and asked to move forward with donor eggs, which Dr. Nani agreed was the best option moving forward, one she was planning to broach with Sarah soon herself. "My favorite thing about Dr. Nani is just how collaborative she is," Sarah shared. "She has always worked within my comfort level, including treatment options, timing and the like – she does not make me feel compelled to follow some standard checklist."
After that conversation, Sarah quickly chose a donor for her eggs, which were shipped during the holiday break, ready for a new cycle early in the new year. Dr. Nani was very comfortable in honoring Sarah's wishes to try for a natural IVF cycle with the donor eggs and the same donor sperm used to conceive Nicholas. "Dr. Nani told me she was very confident that with the switch to donor eggs, it would work on the first try!" Sarah recalled. Turns out she was absolutely right. After transferring one perfect little embryo, Sarah was pregnant again!
Welcoming Rory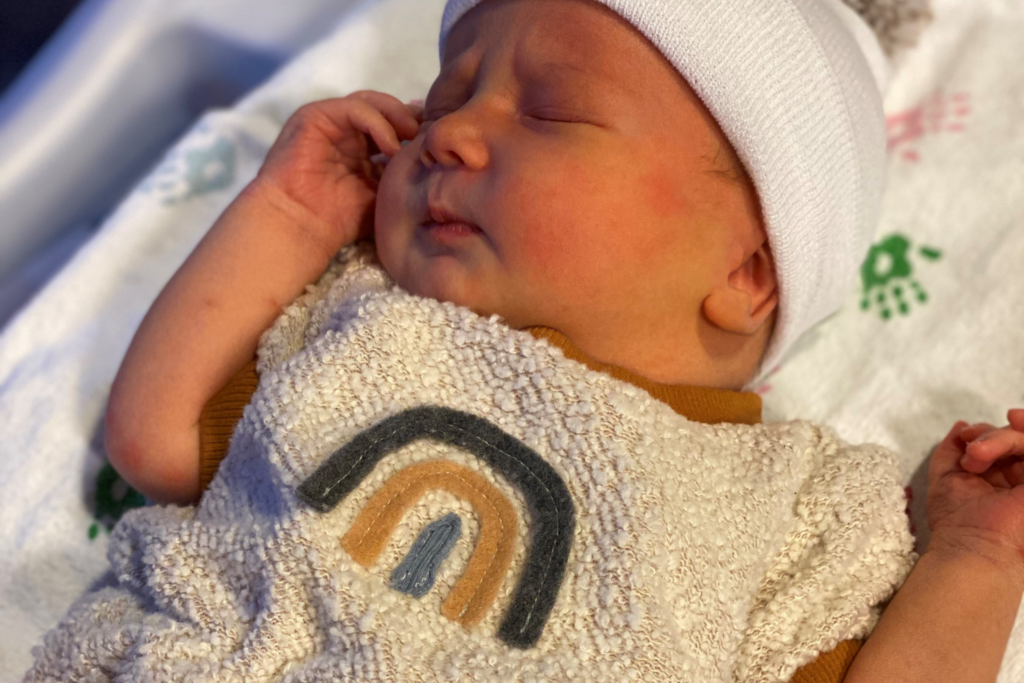 She spent the next nine months in anxious anticipation of welcoming her child, Rory, who was born in October 2020. Since welcoming her second baby boy earthside, Sarah's life has changed in all of the best ways. She has enjoyed (almost!) every minute of motherhood since Rory's arrival. "Every little milestone from the first laughs to the first steps to the first words –they're even more magical than I imagined." She was also very pleasantly surprised to be able to successfully breastfeed her little miracle despite her history with breast cancer and found great encouragement about this from her team of doctors and nurses.
Sarah shared, "He is the sweetest and most energetic little person, who loves his gymnastics classes and climbing on anything and everything he can find! He has certainly been a rainbow who was very much worth waiting for. I'm so glad he chose me to be his mama and I will be forever thankful to Dr. Nani and the whole team at FCI for helping to bring him into my life."
It's hard for Sarah to believe, but Baby Rory is already about to celebrate his second birthday and she is excited to give him one of the greatest gifts of all – a younger sibling! After another natural cycle transferring the only remaining frozen embryo created on the same day as Rory, Sarah is pregnant again and hopes to welcome another baby earthside in 2023!
Words of Wisdom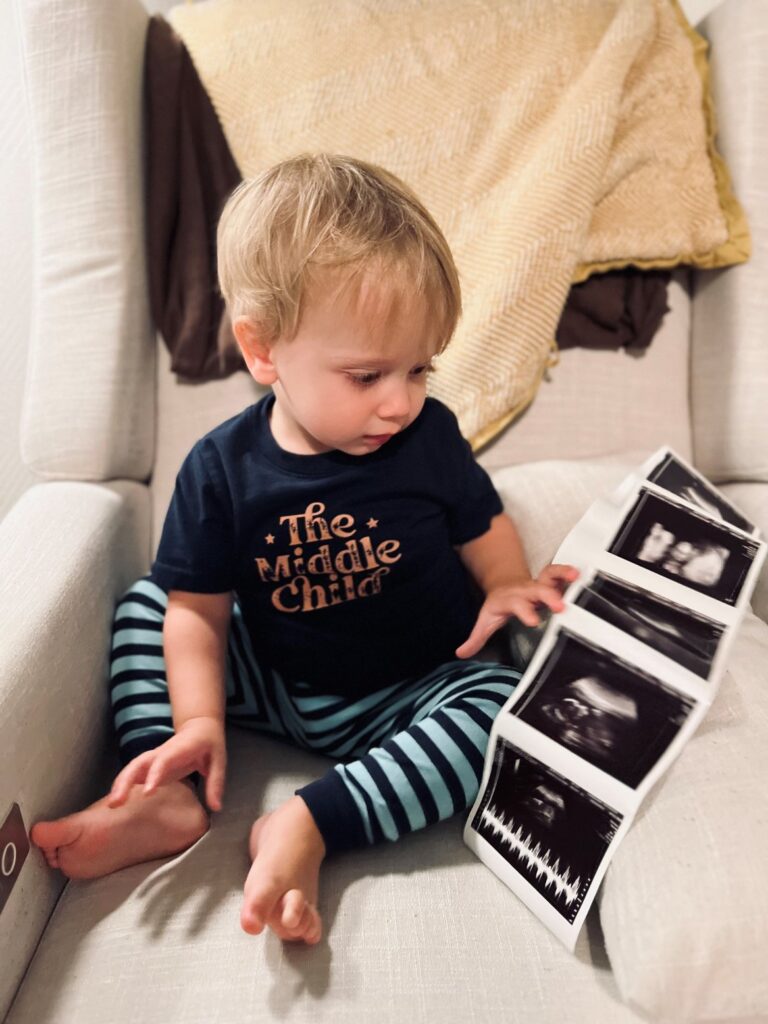 Following all of the highs and lows of her fertility experience, Sarah shared the following reflections: "There is no one way to grow your family and everyone's path is different. Share as much or as little with those around you as feels right for you. Speak up for what you need from your care team. Give yourself space and grace to deal with disappointment. No one but you gets to decide if something is worth pursuing, celebrating or grieving."
She also shared advice for anyone considering becoming a parent in the future. "Everyone with ovaries who may want to have children should consider freezing their eggs if and when the timing and circumstances permit. Even if you end up in a heterosexual relationship, you can still consider using the younger frozen eggs to conceive. It's possibly not as romantic a way to become a parent as we see in the movies, but it's something to think about! People treat fertility and infertility as a diagnostic issue, but fertility preservation is a preventative care matter as well, one that's finally getting more and more attention and funding thanks to the tireless work of many, including the amazing professionals at FCI"
Need-to-know fertility resources and guidance
We understand you may have questions about infertility and how it's treated. Gain answers from the diagnosis and treatments shared in this story.
Assemble your fertility care team close to home. Explore our different locations and physicians who will provide guidance along your journey.